Cosiscoop Urban white
Get Cosi gas lanterns or heating cushions wrapped for free. Simply tick which item(s) you would like to have wrapped in the shopping cart and we will take care of the rest!
Are you looking for a sturdy Cosiscoop in a combination of materials? Then the Cosiscoop Urban is right up your alley. The use of teak in combination with black or white metal means the Urban is always the perfect choice. Cosiscoop gas lanterns create a cosy atmosphere and extend sultry summer evenings. The Cosiscoop Urban is easy to use. Place a 190-grams gas cartridge at the bottom and light it with a long lighter. You will then have an atmospheric flame for approximately 5-6 hours.
Do you want to switch it off in the meantime? No problem, the control knob makes it easy to extinguish the lantern, which can be ignited the next time with a long lighter.
All Scoop gas lanterns operate on a universal 190-grams gas cartridge. Note that you always choose a gas cartridge that is equipped with a gas stop valve. If the gas lantern loses contact with the cartridge, the gas stop valve automatically does its job.
The Cosiscoop Urban is delivered including pebbles. Universal 190-grams gas cartridges with safety valves are available from our Cosi partners, garden centres and DIY stores.
| | |
| --- | --- |
| Article number | 5801260 |
| Ean code | 8712757469604 |
| Material | Metal |
| Colour | White |
| Fuel consumption | Max 30 gram/hour |
| Heat capacity | 0.4 kW |
| Heat output | Low |
| Including | Pebbles |
| Collection | Cosiscoop Urban |
| Dimensions | 20 x 20 x 49,3 cm |
Have you considered these?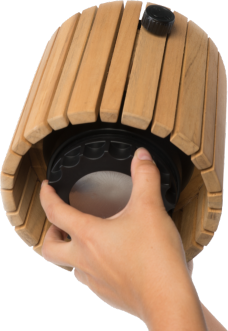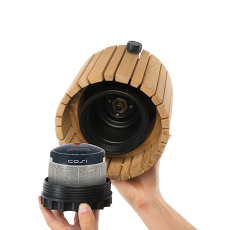 Step 1
Open
Hold the device upright while performing the following steps. Make sure that the control knob is turned off (OFF). Turn the black bottom ring clockwise out of the Cosiscoop. Then place the 190 grams gas cartridge upright in the black bottom ring.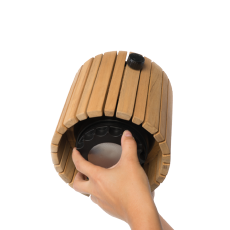 Step 2
Place
Turn the bottom ring, including the gas cartridge, in the Cosiscoop. Turn until you cannot go further and hear a click. Ensure that the Cosiscoop is upright on a stable, non-flammable surface. Does the Cosiscoop come with glass and/or pebbles? Then place it on top of the Cosiscoop. The pebbles should not cover the burner.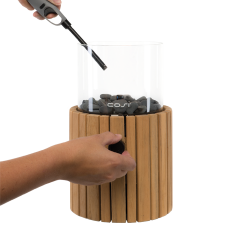 Step 3
Enjoy
Ignite the lighter (length at least 140 mm) while holding it close to the burner and only then turn the control knob open (ON). The Cosiscoop will start burning. A Cosiscoop burns for 5-6 hours on one gas cartridge. To extinguish the Cosiscoop again, turn the knob completely to the right. Store the Cosiscoop in a well-ventilated area.